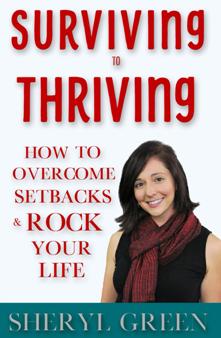 Bad things are going to happen.
This is the self-help book that's going to help you not only survive the storms, but come out the other side happier, stronger, and with a mean left hook.
Like chatting with an old friend over a bottle of wine, Sheryl Green takes you through 16 chapters filled with true life stories, with advice that can only be given by someone who has been there, and with exercises to build your resiliency muscles.
Sheryl Green is passionate about helping people overcome their challenges and become the person they were always meant to be. By the end of Surviving to Thriving, you will discover:
* The most powerful anti-depressant in the world (hint: it has no side effects).
* Why you should embrace your fears and live life by a "Diaper List".
* Why the Platinum Rule outshines the Golden Rule every day of the week.
* That you already possess all the tools you need to rock your life. (You just need to learn how to use them)
When life is kicking you in the butt, find your inner strength with 'Surviving to Thriving' and start living the life you've always hoped for.